Hey! But my UX design practice is perfect! Thankfully, we don't hear that very much but the truth is – the longer we're in a job, the better we consider ourselves to be at that job. Sometimes, it's worth remembering that even the best professionals still have learning to be done. It's also worth remembering that the longer we do things, the easier it is to have sloppy habits creep into our work.
That's why the experience driver is not necessarily a great driver; they may think they are – but there's no shortage of crashes caused by people who have been driving for years. Their skills have slowly deteriorated because they've spent no real time on improving or maintaining them.
We don't want our UX careers to crash… so we keep working on improving our design practice. With that in mind here are 10 simple tips that may help tweak the way you work to deliver even better results:
1. Make Everything the User Needs Readily Accessible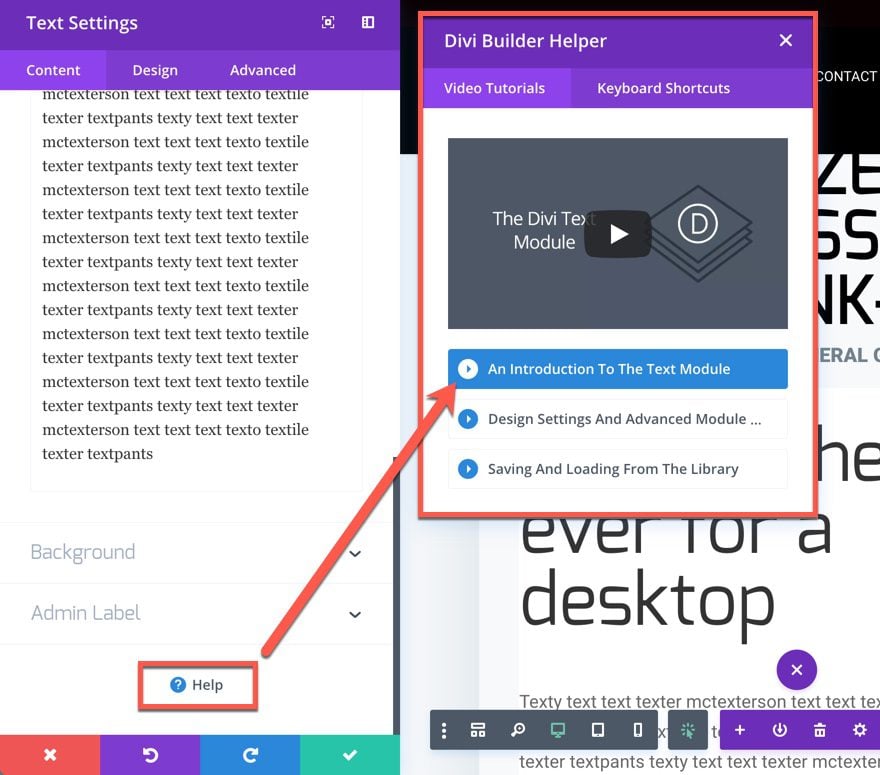 Whether it's a series of design tools for web design apps, the inventory for a character in a video game, a spreadsheet, or anything else, if the user can't find what they want, they bounce off your software. Tabs make things accessible. Shortcuts and hover tooltips, too.
We chose to use tabs to organize Divi, for instance. All the tools you need are right there in the builder, separated by category. Toolbars are similarly accessible. If you use WordPress, the admin toolbar gives you the ability to quickly get to the post editor, the theme customizer, plugin settings, and so on. The options are clearly labeled, and you don't have to search them out.
Another example is the Help/Support/Contact options. When designing a UI, whether it's for a mobile app, web apps, WordPress websites, or anything else, your users will always need to find the Help button (or the Contact Support button). They will absolutely need to contact you at some point. That's why you must always be sure to put the help buttons front-and-center. Look at Divi. In every module, we have the support button ready for you, at your fingertips, whenever you need it.
On top of that, the help window pops up with a video tutorial on whatever feature you're working with. By including this in-module, Divi becomes far more accessible and less frustrating. Plus, as a part of the UI, the location for help is consistent across the entire product.
2. Users crave simplicity and clarity
It takes as little as 0.5 seconds for visitors to decide whether they are interested in a website or not, so be clear with what you want users to do. Today's interfaces need "preferred actions" to be as obvious as possible. Users should not have to think about what you want them to do. For example, it could mean focusing visual attention on one button vs. four on your home page.
Consider what your web app or website can do to make it easy to use. For example, a form can give default values most users would adhere to rather than giving every option available. Part of design is designing for the majority of your users and letting extra functionality be discovered as needed (e.g. through hover controls) without delivering everything in your face.
A consistent design is actually simpler for users because it reuses components, behaviors, colors, and aesthetic to reduce the need for users to rethink. Users are already familiar with many of the components used throughout the web so complying with these patterns will make the system simpler and clearer to begin with.
3. Know where to get creative and where to use common design patterns
Be careful with innovating new UI patterns that are already commonly known patterns elsewhere. You don't want people to have to think too hard about where common elements are. Most interfaces should already be familiar to users. For example, links should look like links. Buttons should look like buttons. Login access is typically located in the upper right; logos and company names upper left.
Getting too creative with common patterns is like saying, "Let me put the blinker for the car with the radio controls," rather than using the standard up/down stick on the left of the steering wheel. It might feel cool to do something non-traditional, but cool does not mean usable. Usability and creativity need to be balanced.
Navigation, URLs, and button placement should focus on usability first before design aesthetic. This is why its best practice to wireframe without design aesthetic to begin with to focus on layout first. Then you can focus on getting creative so the creativity is appreciated.
4. Use of Typography
Typography is regarded as an art as it makes the words come to life in your design. How well your design is received by the people depends upon the use of typography in the mobile design. For the success of your UI design, you need to pick a typography that looks elegant but at the same time does not interferes with the readability.
Users like reading content with great typography and if they need to struggle to read a particular piece of content then being a designer you have not done your job well. So, always make sure, you are picking a typography that seamlessly navigates through the content and presents information in an easily digestible format.
Take a look at the below mentioned image: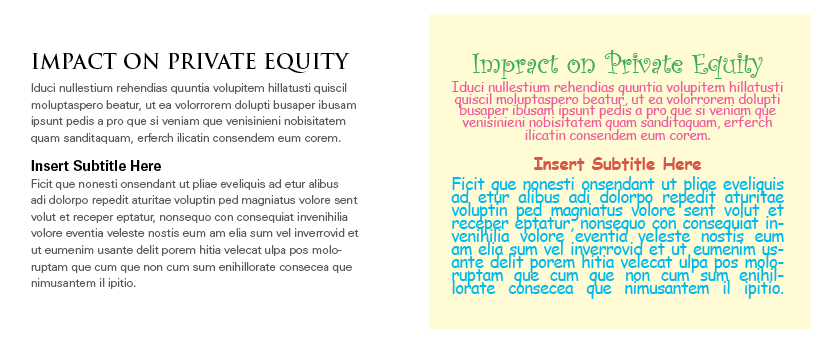 In a glance you can make out content on the left is clear, more legible, and has a consistency whereas content on the right uses so many colors and fonts that it causes distraction to the eye and also looks non-serious. Now, you know how important it is to pick an effective typography that enhances your design and conveys the message effortlessly.
5. Explore Multiple Solutions
The best solution to a design problem is rarely inevitable, so it's always worth considering a range of potential solutions. I mentioned above that one of my starting points on a project is auditing other apps. You can also check out pattern libraries like UI-Patterns and Pttrns for more examples.
Another smart way to explore design patterns is to find similar projects on portfolio sites like Dribbble and Behance. This is especially helpful when you're working on your own portfolio, since these projects can give you some of the why behind the designers' approach. Why did the designer choose this flow and is their reasoning relevant to your project? When you do sit down to sketch or wireframe, this will help you see more possibilities. It'll also help you with the next strategy.
6. Practice Explaining the Why
While wireframing user-centered interactions is the obvious skill you need as a UX designer, communicating why you've chosen one design over any other is sort of the secret sauce. As a new designer, explaining the why behind your work is crucial for building an effective  portfolio. This Senior UX Designer and this Senior UX Recruiter explain why it's so important to show off your problem-solving approach in your portfolio. To be most effective, try to point to some user research you've done on the project or some published usability research. And as a design contributor on a team, you'll frequently present your work and need to explain your design decisions.
7. Do Retrospectives
Reflecting on a project is something that most of us probably don't do as much as we know we should. Like flossing, we all know it's important. But in the moment, we can usually find a shiny object (or something else) to look at instead. Doing a quick review—it doesn't have to be lengthy!—can help you iron out a communication issue on a team project or sidestep a future roadblock in your process.
A key to making these changes stick is writing them down and formalizing them in some way. Again, this doesn't have to be super comprehensive, just a short list of takeaways is fine. If you're on a team, get everyone involved, and incorporate the list into your future workflow so you make sure you're not repeating your mistakes. Especially early on when everything is a learning experience, gathering up those lessons will help you improve your work dramatically.
8. Get to Know Your Colors
Colors play a vital role in designing and planning. It is not only meant to put life in your app or website, but it also determines the tone, mood, and message you are conveying.
If you are a business involved in the food industry, what do you think is the best color to utilize? According to color Psychology, red is the most powerful choice that can increase your sales. Just take a look at McDonald's, KFC, Pizza Hut, and Coca-Cola. One thing that they have in common is that they utilize red as their brand's color.
There's only one reason why these brands went for the same strategy: it's effective. This color is known to tease a person's appetite and stimulate the taste buds. When combined with other suitable colors, it can intensify the brand's message.
Take some time to research about colors and what they can do for your design. Make sure that it follows the path you want to take and the goals you need to reach.
9. Visual Hierarchy
When putting the most important elements on the interface, highlight them so that users focus on them. In design, there are a lot of ways in which to highlight things, but the most effective is to make it larger than anything else on the screen.
Making something a focal point by making it larger than anything else, is how several websites achieve the impossible to ignore highlighting of sales or 'click here' buttons.
10. User Experience Qualities
Peter Moville represents the factors of UX in the User Experience Honeycomb on the usability.gov site. At the core is value in what you are providing to the client, surrounded by hexagonal shapes of the following:
Useful – Content should be original and fulfill a need
Usable – Site must be easy to find
Desirable – Design elements bring about emotion and appreciation
Findable – Content needs to be locatable and navigable offsite and onsite
Accessible – Content needs to be accessible to people with disabilities
Credible – Users must believe and trust what you tell them.
There are other schools of thought regarding UX qualities. Here are more things that are related to building UX as well:
Be contextual – Be sure to mark where users are in their path through the interface.
Be human – Be trustworthy, transparent, and approachable with human interaction preferred over machine interaction.
Be discoverable – Be sure users can accomplish their tasks the first time they visit.
Be learnable – Be sure that interaction is easy and moving through product is seamless. Be sure that on subsequent visits users can accomplish their goals.
Be efficient – On repeat visits can they accomplish repetitive tasks quickly and easily?
Be delightful- Be sure that product delights users so that they have an emotional connection to it and champion your product.
Be a performer – Be sure that the system performs well when users are interacting with it.
Conclusion
Users need to have an emotional connection to the experience of using your product. If you are merely creating an interface and not an experience, you have limited chance of gaining the following you need to make your product a success.
UIs need to be simple to navigate, easy to use, and created with the proper colors and fonts for your audience. Don't forget to integrate end-user feedback while remaining consistent throughout the design.